The idea that we should "watch our sugar" is nothing new. And the fact that we all have our weak moments and fall for those chocolate chip cookies or that red velvet cupcake also isn't new.
What might be new to many of us is that there's a constant stream of sugar sneaking into our diets day-in and out, even in seemingly innocuous forms like healthy food products boasting "no sugar added" and in something as seemingly healthy as an apple.
Yes, sugar is everywhere – and it's basically a dietary super villain, according to JJ Virgin, certified nutrition and fitness specialist and author of The New York Times best sellers The Virgin Diet and Sugar Impact Diet.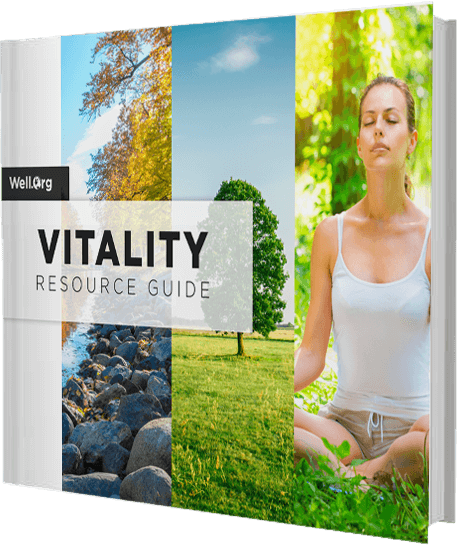 Get the FREE VITALITY RESOURCE GUIDE RECIPES, workouts, sleep tips, and much more.
"We all know sugar is bad, but the problem is we've been looking at sugar all wrong, because we tend to look at added sugar, right? We don't look at the natural sugars in food and we don't look at carbs. The pathways, as you know, all sugar, all carbs, are going to turn into sugar except for fiber," she says. "Now, all sugar is not created equal, so we've got all carbs turning into sugar but then we've got this special sugar over here – fructose – that I'm glad now it's starting to come out how evil it is, but if we could get one thing out there, that fructose is the most evil of the evils, it is the Darth Vader of sugar, because it goes straight to the liver, bypassing satiating signals."
Fructose doesn't raise blood sugar, which means it also doesn't trigger the body's natural responses that let you know you've eaten.
"It can create fatty liver," says Virgin. "We have kids with fatty liver. That used to be the disease of alcoholics … It creates insulin-resistance. It creates hypertension. It goes straight to the liver where it makes fat. The more fructose you eat, the better your body gets at transporting it straight to the liver and making fat."
That's at the worst end of the sugar spectrum, but all sugar is going to cause problems in your body because of what it feeds.
"Sugar is really coming in and mucking up your hormonal responses and your gut because it's feeding the bad bacteria in your gut and creating Candida, and those two things together, feeding Candida, feeding the bad gut bugs, can make you crave more sugar and make you better at storing fat," Virgin says.
So the question remains: Where is all this sugar coming from if not simply from our moments of weakness at the cookie jar?
Sugary Stuff Disguised As Healthy
Juices and smoothies have been all the craze for a while among the health-conscious. But, ever stop and inventory the sugar content? Virgin has and in one popular green drink with "no sugar added," she found there to be 56 grams of sugar.
"[It] is mainly mango and banana and apple with some green in there, so it doesn't taste too green," she says. "It looks green, doesn't taste green."
The list of foods with hidden sugar is too long to list completely, but be wary of things like: fat-free fruity vinaigrettes, dressings, sauces, cereals, juices, jams and skim milk.
Yes, Fruit Turns Into Sugar
We've all been programmed into thinking eating fruits and veggies makes us healthy. While there are certainly loads of benefits to fruits and vegetables, the types we eat make a big difference.
"Fruit and vegetables are not the same," Virgin says. "They're not the same, and non-starchy vegetables are not the same as starchy vegetables. Broccoli is not the same as a potato."
Virgin advises eating a lot of non-starchy vegetables and small amounts of low-sugar-impact starchier carbs like pumpkin. Squash is her personal favorite because it's very low sugar and high fiber.
"As far as fruit goes, what you really want to look at is how much fructose is in that fruit," she says. "It turns out apples and pears are the highest fructose-containing fruits, so apple juice has more fructose than a Coke. You want to look at the forms. Fresh fruit only, not dried, which is just sugar. It's just candy. Not juice, which is just fruit unwrapped without the fiber, not concentrates."

Some good low fructose fruits are cranberries, raspberries, blueberries and pink grapefruit.
What About Sugar Alternatives?
"The answer is definitely not aspartame. It's not the artificials, as we know," Virgin says. "They feed bad bacteria in the gut. They can raise insulin just like regular sugar can. They make you crave more sweet. They can be neurotoxic – not the answer – and they cause calorie dis-regulation. When you eat sweet but you don't get the calories you should, your body goes, 'What the hell?' and you tend to start overeating."
Virgin does see benefits in chicory, cinnamon, vanilla, erythritol, xylitol, stevia and monk fruit, but she stresses the importance of just trying to live without the ultra sweet tastes we have acquired through years of sugar programming. We need to reprogram our tastebuds to a more natural state.
"You need to start reclaiming your tastebuds, appreciating savory and spicy, using sour foods because sour foods take your sweet tooth away," she says.
Comments